Press release
Alim Beisembayev
---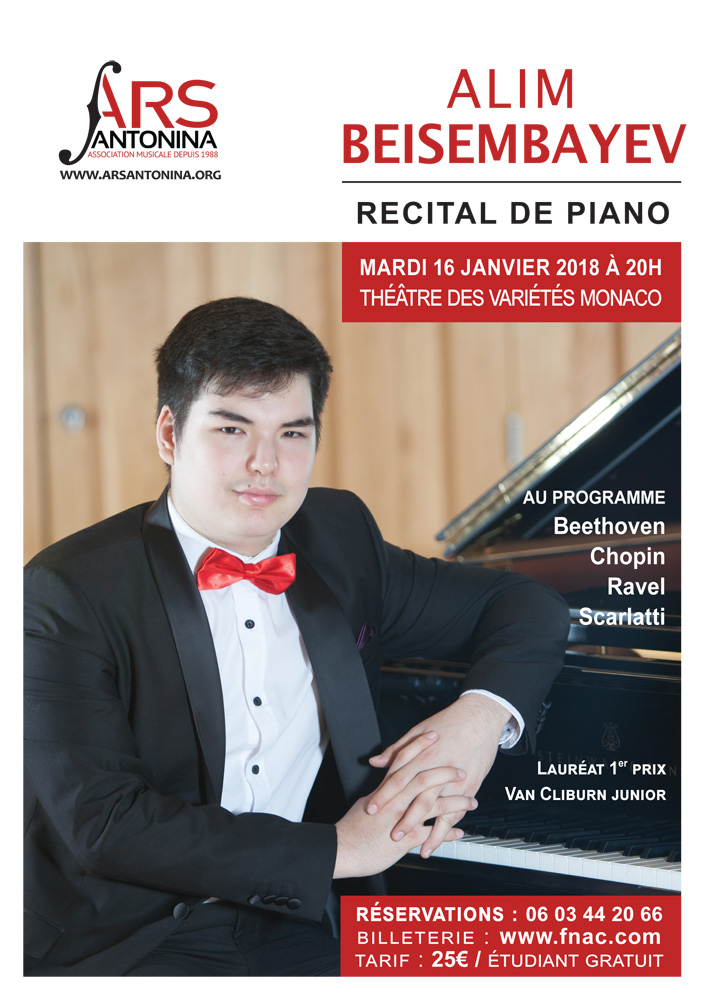 Press contact :
Merwane HADJ-CHIKH
Chargé de Communication
arsantonina@gmail.com

---
L'Association Ars Antonina
in partnership with the Direction des Affaires Culturelles de Monaco
presents the Monaco début of
The young Kazakh pianist
Alim Beisembayev
1st Prize winner of
The Van Cliburn Junior International Piano Competition
In recital
Tuesday 16th January 2018 at 8pm
At the Théâtre des Variétés de Monaco
1, boulevard Albert 1er
Programme
Beethoven, Chopin, Ravel, Scarlatti
---
PROGRAMME
Piano recital.
D. SCARLATTI : Sonata in A major K24
D. SCARLATTI : Sonata in B minor K87
F. CHOPIN: Nocturne in C sharp minor, opus 27 no. 1
F. CHOPIN : Nocturne in D flat major op. 27 no. 2
L. van BEETHOVEN : Sonata no. 23 in F minor, opus 57: Appassionata
INTERVAL
M. RAVEL : Les Miroirs
Oiseaux tristes
Une barque sur l'océan
R. SCHUMANN : Symphonic Studies, opus 13
Thema : Andante
N° 1 Un poco più vivo
N° 2 Andante
N° 3 Vivace
N° 4 Allegro marcato
N° 5 Vivacissimo
N° 6 Agitato
N° 7 Allegro molto
N° 8 Andante
N° 9 Presto possibile
N° 10 Allegro
N° 11 Andante con espressione
N° 12 Allegro brillante
---
BIOGRAPHY
Alim Beisembayev was born in Kazakhstan in 1998. He started playing the piano at the age of 5 in a music school in Almaty. In September 2008, he moved to study at the Central Music School of Moscow. Later that year, he won the televised, international competition for young talented musicians "Nutcracker".
After two years of studying in Moscow, he moved to continue his studies at the Purcell School for Young Musicians in the UK, where he was taught by Tessa Nicholson.
Alim has played with many orchestras including the Orchestra of Evgeny Svetlanov, Symphony Orchestra of Vladimir Fedoseev, the Tchaikovsky Symphony Orchestra, Fort Worth Symphony Orchestra and he has also worked with conductors such as Mark Gorenstein, Dmitry Liss, Evgeny Bushkov, Mei Ann Chen and Karina Canellakis.
In 2010, Alim recorded Beethoven's Piano Concerto No. 1 with the Symphony Orchestra "New Russia" under the baton of Evgeny Bushkov.
His performances have taken place in halls such as the Great Hall of Moscow Conservatoire, Tchaikovsky Concert Hall, the St. Petersburg Philarmonia of Shostakovich, the Steinway Hall, Wigmore Hall Purcell Room, Royal Festival Hall and the Fazioli Hall in Italy.
In 2014 he was awarded 3rd prize at the Liszt International Junior Competition in Weimar. In June 2015 Alim won the First Prize in the inaugural Cliburn International Junior Piano Competition in Fort Worth, Texas.
In February 2016, Alim was a guest at BBC Radio 3's 'In Tune' promoting the concert at the Royal Festival Hall, where he performed Rachmaninov's Second Piano Concerto with the Purcell School Symphony Orchestra.
In summer 2017, Alim was awarded 1st prize at the Manchester International Piano Comeptition where he performed the First Tchaikovsky Piano Concerto with the Manchester Camerata.
Since September 2016, Alim is currently studying with Tessa Nicholson at the Royal Academy of Music in London with a full scholarship.